Fresh-Cut Lots:
When you choose to share your Christmas experience with the Olmsted family, all you have to bring is your family and enjoy the fun of picking out your very own tree. We are committed to top-notch customer service. After you find that perfect tree, the Olmsted staff will carry your tree, provide a fresh cut and trim your tree to ensure it will fit in your stand. We also safely load or tie down your tree to your vehicle (twine is provided free-of-charge).
U-Cut Farm:
We provide hand saws for your convenience at our U-cut farm on Clear Creek Road in Poulsbo and load and tie down your tree to your vehicle free of charge. Enjoy complimentary popcorn, hot chocolate and hot apple cider while you warm your hands by the bon fire. Complete your visit with a picture in Santa's sleigh. Our U-cut farm also features our biggest selection of fresh-cut trees.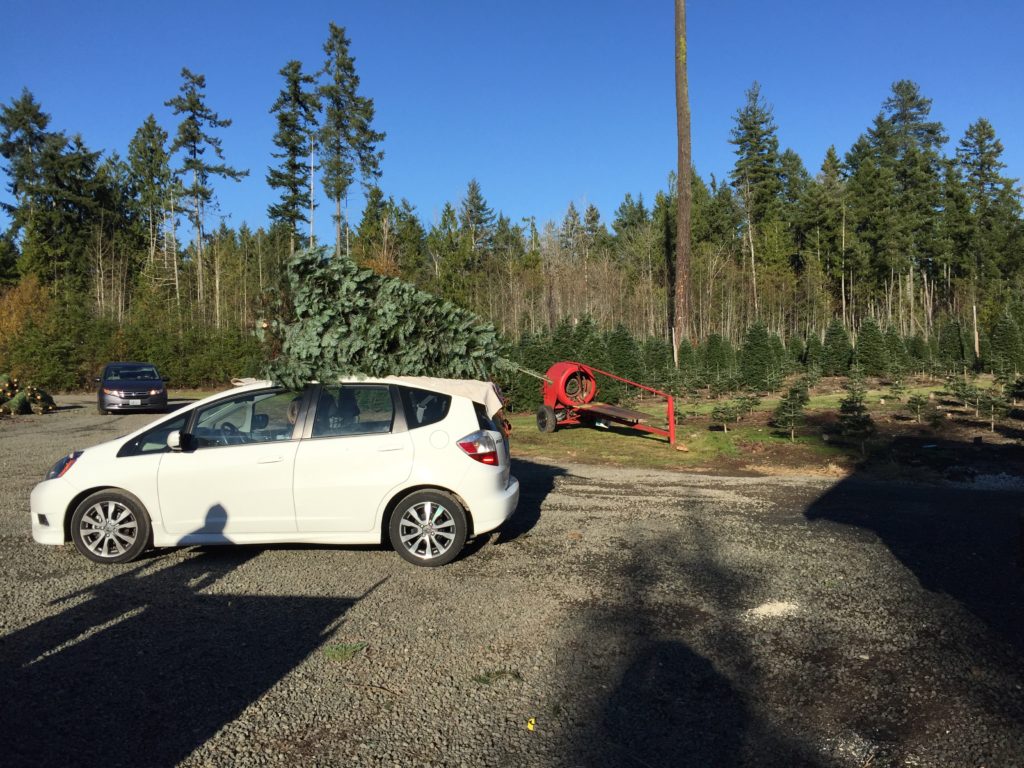 How To Care For Your Tree
If you choose to do the fresh cut yourself at home rather than us taking care of it for you, make a fresh, straight cut across the base of the trunk about an inch up from the cut end to aid in water absorption and then place the end into a container of plain tap water. If the tree is not to be put up right away, cut an inch off the end, place the tree in a bucket of water and store it in a protected, shady, and cool area.
A six-foot tall tree can use three to four quarts of water the first day, the most critical day for moisture intake. A tree needs nearly a quart of water per day, per inch of diameter at the tree butt. Water is important in preventing needles from drying out, dropping off, and keeping the tree fragrant longer than a tree that is displayed dry. Check the water level in the tree stand reservoir and add water daily. Various preservatives added to the water are no more effective than plain tap water!
Maintain bark near the base of the tree.  Use a sturdy stand. Allow the tree branches to unfold naturally, do not force them.
Place the tree away from heat sources such as air ducts, fireplaces, radiators or sunny windows.  Never have open flames on or near a Christmas tree.
Sensible precautions will keep the Christmas tradition a pleasant experience. Only use indoor lights indoors on indoor trees. Look for the UL label. Check for broken-cracked sockets, frayed- bare wires, or loose connections. Replace damaged light sets. Use the smallest lights possible to prevent a build-up of heat. Don't overload electrical outlets.